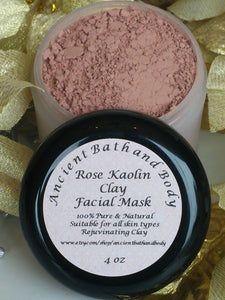 Rose Kaolin Clay Mask
❤ Kaolin Clay (Rose Kaolin Clay) also known as Pink Clay. This is a mild Kaolin Clay and is good for normal to dry skin. This gently cleanses and exfoliates skin. This is another clay that improves the circulation of skin. ❤

❤ BENEFITS ❤
Detoxifies skin and pulls out impurities
Improves Circulation
Leaves Skin Feeling Smooth
Prevents Blemishes
Gently removes dead skin cells for a fresh looking complexion
Tones and tightens skin

❤❤❤❤ DIRECTIONS ❤❤❤❤
Add water to make a "pancake mix" consistency. Apply as a face mask for 10-15 minutes. Do this 1-2 times a week for best results.