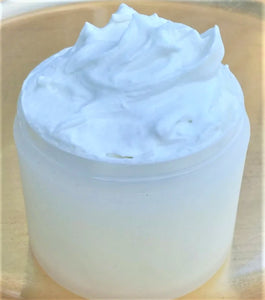 Dragon's Blood Whipped Body Butter
★Ancient Bath and Body's natural super smooth creamy whipped body butters. This is our Dragon's Blood scent which is a nice mix of many scents that are woodsy, warm, light musk, floral and earthy. The scents include Sandalwood, Amber, Vanilla, Rose, Jasmine, Lilac, Orange, Grapefruit and Patchouli.

❤If you ever wondered what a white puffy cloud in the sky feels like, this would be the touch. The natural oils that are semi-solid at room temperature immediately melt on contact with your skin. These lock in moisture, soften your skin and smell amazing. Body butters are unlike commercial lotions, these contain absolutely no alcohol, which is a major cause of dry and flaky skin. As always our products are natural, chemical free, EDTA free, BHT Free, Paraben free and contain absolutely no harmful ingredients.❤

☞☞☞DISCLAIMER☜☜☜
This product will melt in temperatures hotter than 76 degrees F due to the natural oils, it is also possible it will melt during transit due to being in a hot warehouse, or postal truck in hotter areas of the country. Natural products are fantastic but are unfortunately temperamental. The positive thing is our whipped body butters will solidify again in normal room temperature. The quality of the product does NOT change if it melts and solidifies again. In the event it melts and you want it to solidify faster pop it in your refrigerator for 10-15 minutes.

❤❤❤This whipped body butter is Vegan friendly, no animal by products and cruelty free.❤❤❤

❤❤❤❤❤ BENEFITS ❤❤❤❤❤

❤ Helps skin ailments such as Psoriasis, Eczema, dry skin and rashes
❤ Due to the Shea Butter, coconut oil, vitamin E oil, Jojoba Oil and Sweet almond oil this reduces inflammation which makes it beneficial for acne
❤ Contains vitamins and essential fatty acids which makes it nourishing and moisturizing for your skin.
❤ With long term use, many people have said this has helped skin softening, reduced wrinkle and skin strengthening.
❤ This contains pure vitamin E oil. Vitamin E oil is a strong antioxidant and helps premature aging and wrinkles by fighting free radicals. It treats wrinkles by boosting collagen production, as well as supporting new skin cell growth and speeding up cell regeneration.

~~Materials: Organic Extra Virgin Coconut Oil, Organic Mango Butter, Unrefined Organic Shea Butter, Pure Essential Oils, Safflower Oil, Jojoba Oil, Sweet Almond Oil, Organic Unrefined Cocoa Butter, Arrowroot Powder, Natural Emulsifying Wax (Does not contain Polysorbate 60 like Polawax).

Ancient Bath and Body does not claim our products cure or treats diseases or illnesses. The ingredients we use in our products have been researched to provide proof of the benefits. We are mixing them together to pack a bigger punch for great healthy skin benefits. The feedback we get from customers are the benefits we have listed. Enjoy!