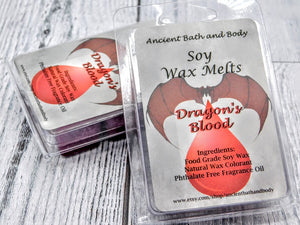 Dragon's Blood Soy Wax Melts
Dragon's Blood is one of Ancient Bath and Body's favorite fragrances to use. This has the most unique scent I have ever smelled and I LOVE it. I hope you do as well.

★★★★Dragon's Blood is A semi-sweet, mildly spicy, floral aroma. True Dragon's Blood resin is burned and is thought to have aphrodisiac properties and has been used in incantations to bring back loved ones. This Dragon's Blood scent smells exactly like the resin and powder.