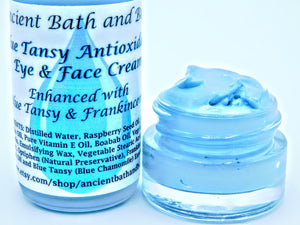 Blue Tansy Facial Cream
Blue Tansy Antioxidant Eye and Facial Cream really packs a punch for an over all eye and face cream. This is loaded with antioxidants, is a potent anti-inflammatory and has skin nourishing ingredients for any skin type. This is made with Blue Tansy Essential Oil also known as Tanacetum annuum. This is a Vegan eye and face cream and infused with Vegan Vegetable Collagen.

This Eye and Face cream has a refreshing, sweet, herbaceous aroma due to Blue Tansy's scent notes.

This comes packaged in either a 0.25 oz glass jar or a 1 oz frosted glass bottle.

___ Benefits ____:

Light Weight
Non-greasy
Easily absorbs into skin within minutes
Antioxidant
Anti-Inflammatory
Reduces Redness
Soothes Rosacea
Clears Congested Pores
Fights Acne
Clears Blemishes
Can be worn under makeup
Can be used as an eye primer

Benefits of each ingredient:

🌿 Raspberry Seed Oil: The anti-inflammatory effect of red raspberry seed oil also soothes symptoms of inflammatory skin conditions like eczema, rosacea, and psoriasis. Dry skin is a symptom of these conditions, too. The oil can moisturize and soften skin, as well as reduce flares and irritation like itching, swelling, and redness. Has a natural SPF of (28-50 SPF for UVB rays and 8 SPF against UVA rays).

🌿 Vegan Vegetable Collagen: is the plant-derived from zea mays, triticum aestivum & glycine max, as an alternative solution to soluble collagen. A com­parison study of the Vegetable Collagen and Soluble Collagen was conducted and suggests that, in fact, Vegetable Collagen might be more suitable for promoting the hydrating and conditioning properties desired than its competi­tion. Vegetable Collagen has benefits to skin elasticity and hydration and to nail strength and growth, based on containing both collagen and hyaluronic acid

🌿 Jojoba Oil: has anti-inflammatory properties which help to tame chaffing and chapping, reduce redness caused by drying, ease the effects of eczema and rosacea, and keep skin calm and comfortable. The Vitamin E and B-complex vitamins in the Jojoba oil help in skin repair and damage control.

🌿 Boabab Oil; This enriching oil nourishes and improves skin elasticity and soothes dry skin. Baobab oil contains moisturizing Vitamins A, D, E and F, which help to rejuvenate damaged skin cells. Also rich in omega fatty acids, baobab oil does anti-aging wonders for skin by fighting free radicals.

🌿 Oat Extract: used to treat and soothe a variety of irritating skin conditions associated with dry sensitive skin, especially atopic dermatitis.

🌿 Frankincense (Boswellia serrata)- Applying frankincense oil to your face can help prevent wrinkles and lift and tighten skin to stop or reverse the signs of aging. Because it's a powerful astringent, it also helps reduce acne blemishes and the appearance of large pores.

🌿 Blue Tansy (Tanacetum annuum)- It has antioxidant and anti-inflammatory properties. Its most common use is to calm irritated skin, reduce heat, and relieve delicate or troubled skin. Blue tansy's ability to clear congested pores, kill off pimple-causing bacteria, and reduce redness, make it one of the best oils for acne-prone skin.

Ingredients: Distilled Water, Vegan Vegetable Collagen, Raspberry Seed Oil, Golden Jojoba Oil, Vegetable Glycerin, Boabab Oil, Stearic Acid (Vegetable derived), Emulsifying Wax, Oat Extract, Optiphen ( is a unique paraben-free and formaldehyde-free preservative), Frankincense (Boswellia serrata) Essential Oil & Blue Tansy (Tanacetum annuum) Essential Oil.

PLEASE NOTE: When you are sourcing Blue Tansy Essential Oil products always make sure it is with The Blue Tansy Tanacetum annuum. The other Blue Tansy is the common Blue Tansy known as Tanacetum vulgare, which has high concentrations of Thujone, which is a toxic enzyme. Always know your sources for essential oil suppliers and bath and body creators who work with essential oils.